Brands over-confident for Crisis?
Brands are over-confident for Crisis. If not prepared, you don't work for Trust. The absence of Trust creates unfavorable conditions in the wider economy and the citizen-consumer behavior!
Brands are over-confident for Crisi
s
Brands and businesses are keenly aware of the increasing threat of crises. In the last 10 years, we witnessed on media more than 250 big crisis-response cases, where scrutiny is now 'hot' against US and E.U corporations. Why? Companies aren't prepared for it.
Basically, there is a cultural issue: if companies work on their proactive preparedness, their executives admit (to shareholders, internal stakeholders) that something isn't operating well. But being prepared isn't about this, but it's about changing the attitude: "…it can't happen to us!"
Sooner or later,every organization faces a crisis. Preventing a damaging blow to the company's reputation requires a strategic crisis plan and preparedness.
New research from Deloitte Global
Companies show little indication that they are prepared to handle a crisis, according to a new 2018 research from Deloitte Global. The study, which builds on the findings of the previous 2015 study Crisis of Confidence, surveyed in 2018 over 500 senior crisis management, business continuity, and risk executives about crisis management and preparedness. Here are some indicative charts: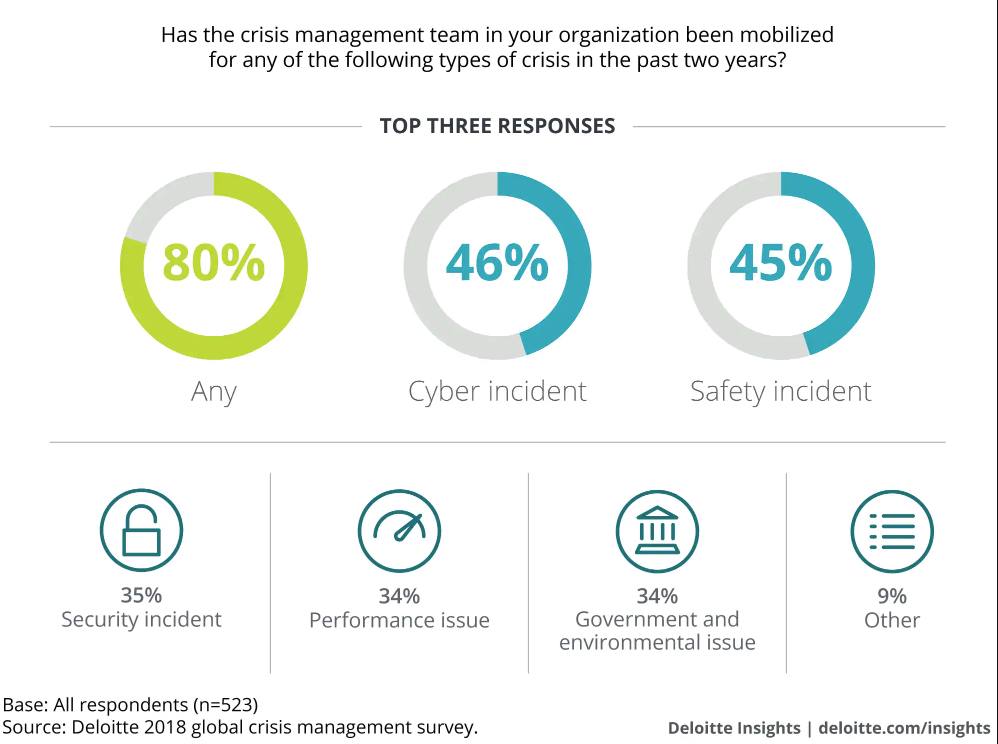 Companies do not conduct crisis simulation exercises to test their preparedness. Nearly 90% of survey respondents are confident in their organization's ability to deal with a corporate crisis/scandal, yet only 17% have tested this assumption through simulations.
The 80% of companies worldwide mobilized their crisis management teams at least once in the past two years. Those that have already experienced a crisis are learning from them. Following a crisis, nearly 90% of companies have conducted reviews.
When responding to a crisis, strong leadership and awareness are critical. The survey finds that 24% of respondents cite the effectiveness of leadership and decision making as one of their greatest crisis management challenges.
In a crisis, you have to deal with practical organizing items and leadership is crucial: define roles, monitor stakeholder actions, decisive and fast responses, reactive statements, info kits to authorities and many more. This is why it is important in crisis preparedness simulations to have the Board and Executive team in the room.
The true test of Leadership is how well you function in a Crisis – Brian Tracy

In crisis, you show what you're made of
Crisis management steps are the same no matter the case: a coordination unit comprised by all associated units, the special advisory team on legal, engineering, safety, communications etc, and one (real) specialist in charge.
Secondly, when your crisis is impacting an entire society's group (consumer, food and kids, environment) your communication policy is critical: responsible answers, truthful data, timely information dissemination every hour. Out of your ethics and brand culture, you don't let room for speculation, word-of-mouth, and irresponsible explanations. Because communications are not aiming to turn your public image into favouritism, but to protect stakeholders (fishermen, leisure groups, businesses, kids etc).
In tough times, whether it's a state, company, brand, what the stakeholder audiences see is who's really exemplifying Truth, Ethics, Transparency, and Responsibility through information, hard work, and actionable response. So you should:
Be always prepared

Familiarize with media

Have a senior crisis team

Prepare at no-time all reactive (key) statements

Have a 100 meters' runner pace…

Delivering information in short times, in honesty

Every action or statement aims to build (or restore) Trust.

Offer acknowledgement and apologies when needed.

Seek the services of a reputable Crisis communicator (avoid journalists, they have enemies; they try to 'bank' their network)
Closing
I don't write this piece because I was for long into corporate communications, but because Trust worries me more as a professional. The absence of it, is creating goodwill gaps or unfavorable conditions in the wider economy and society. Any company who's failing to build Trust (and manage a crisis), by intention or by mistake, troubles the entire market and impacts negatively the economy and citizen-consumer behavior.